Best Practices for Flying with Firearms & Ammunition
Traveling soon and looking to bring your handgun or other firearms with you? If so, you've come to the right spot. TSA has very specific rules and regulations set in place to ensure travel safety. Whether you are carrying a firearm, ammunition, or both,
SAFEGO
is the ideal portable safe to be used to help transport your glocks, pistols, handguns, or ammunition on your next flight. Be sure to check out TSA's checklist below in order to make sure you are compliant and do not run into any issues.
When traveling, comply with the laws concerning possession of firearms as they vary by local, state and international governments.
Declare each firearm each time you present it for transport as checked baggage. Ask your airline about limitations or fees that may apply.
Firearms must be unloaded and locked in a hard-sided container and transported as checked baggage. Only the passenger should retain the key or combination.
Firearm parts, including magazines, clips, bolts and firing pins, are prohibited in carry-on baggage, but may be transported in checked baggage.
Replica firearms, including firearm replicas that are toys, may be transported in checked baggage only.
Rifle scopes are permitted in carry-on and checked baggage.
United States Code, Title 18, Part 1, Chapter 44, firearm definitions includes: any weapon (including a starter gun) which will, or is designed to, or may readily be converted to expel a projectile by the action of an explosive; the frame or receiver of any such weapon; any firearm muffler or firearm silencer; and any destructive device. As defined by 49 CFR 1540.5 a loaded firearm has a live round of ammunition, or any component thereof, in the chamber or cylinder or in a magazine inserted in the firearm.
Ammunition is prohibited in carry-on baggage, but may be transported in checked baggage.
Firearm magazines and ammunition clips, whether loaded or empty, must be securely boxed or included within a hard-sided case containing an unloaded firearm.
Small arms ammunition, including ammunition not exceeding .75 caliber and shotgun shells of any gauge, may be carried in the same hard-sided case as the firearm.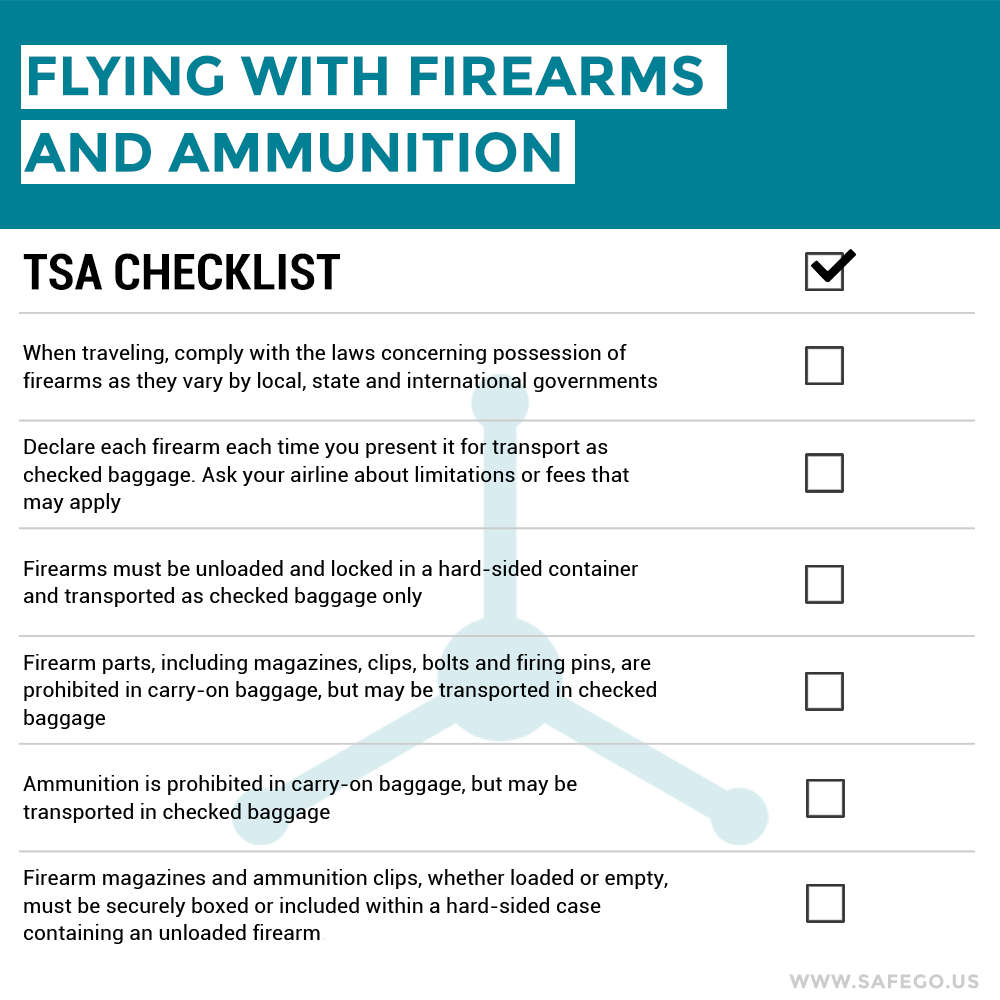 Click on the image to the right, or button the bottom below to download some of TSA's guidelines to safely fly with your guns and ammunition.
Contact the
TSA Contact Center
with questions you have regarding TSA firearm regulations and for clarification on what you may or may not transport in your carry-on or checked baggage as these may become outdated or missing information.
Download Checklist